Our prototype of the new Flexitrailer was well received at the IAA Fair in Hannover. Starting in May, D-TEC will deliver its Flexitrailers LS & HD after giving these a makeover. Our vision always forms the basic principle in the new updates and it is expressed in our slogan: Lift up your profit! That is why in this update, D-TEC has implemented several cost optimizations based on feedback from our customers. The following is an overview of the most important changes in the basic design of the Flexitrailer:
Installing the rear lights more concealed into the chassis, reducing the risk of damage;
Using bearing rollers in order to slide the rear part smoothly; 
Dense side-protection for placing your advertisement on it;
Weight-saving, which combined with BPW axles can run up to 70 kg; 
Block-shaped lamps with LED lighting.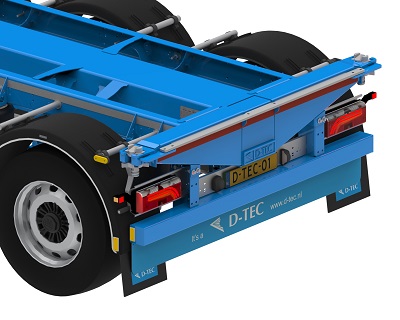 In addition, D-TEC also offers a number of new options, including:
Innovative D-TEC flip-over console, so that filler blocks are no longer necessary (click here for more information); 
Brake system from Wabco or Knorr; 
20 ft central in case of Flexitrailer LS; 
BPW disc brake axle.