B&S Hollingworth choose quality that pays for itself
In England, it's not uncommon to use a one or two-piece environment roof. The roofs and their method of assembly, however, could definitely be called unconventional: a local bodybuilder puts a roof onto a trailer that has already been delivered. Yet these roofs are not specially made for the trailers, often making them too heavy, too wide and too expensive in use due to costly repairs. They are certainly cheaper to purchase though, tempting many carriers to buy lower quality roofs that are more prone to damage.
B&S HOLLINGWORTH
Not transport company B&S Hollingworth & Son Ltd in Nottinghamshire. They have selected a Kraker moving floor trailer that is delivered ex-works with a two-piece Kraker roof. The B&S Hollingworth trailer is used for the transport of unprocessed wood waste, wood chips and compost.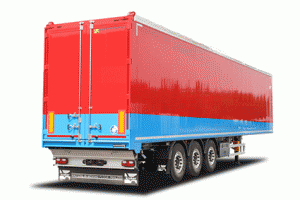 ENVIRONMENT ROOF
The environment roof developed by Kraker Trailers consists of standardized components that can be applied to different types of roofs. The components are purchased in large volumes, ensuring a constant stock. This also makes an immediate impact on the time factor.

KRAKER TRAILERS ALSO DELIVERS A ONE-PIECE ENVIRONMENT ROOF.
The major advantage of a one or two-piece environment roof is the speed at which it opens and closes. A one-piece roof can also protect the side wall during loading and unloading.

STRONG AND EASY TO USE
Hollingworth specified that the roof should be strong and easy to use. The trailer supplied fulfilled these requirements.