Monday, March 23, 2015
At the end of March, Agrivert Ltd of Chipping Norton, Oxfordshire took delivery of their first three D-TEC tank trailers. Agrivert purchased these three tank trailers specifically for the transportation of digestate substrate from their biogas installations.

Agrivert Ltd is an established market leader within the organic waste recycling market and currently operates three Anaerobic Digestion (AD) facilities, two In-Vessel-Composting plants and a  further three Open Windrow Composting sites. The three D-TEC tank trailers will be used for the transportation of the biogas digestate to both storage lagoons and field spreading operations. The tank trailers will also support service contracts delivering liquid waste products into the AD plants.

"After looking at all the various options within the U.K trailer market, we decided that the D-TEC tank trailer concept delivered both a low tare weight, impressive loading and unloading times, tempered with a typically Dutch build and engineering quality. The D-TEC concept is fully focused on efficient deployment within the biogas chain. Optimising the efficiency of all operations has become increasingly important. The D-TEC trailers are fitted with the D-TEC front and rear axle steering system which is ideal for manoeuvring in restricted areas often found in farmyards and spreading operations" comments Neil Pollington, Operation Manager for Agrivert Ltd.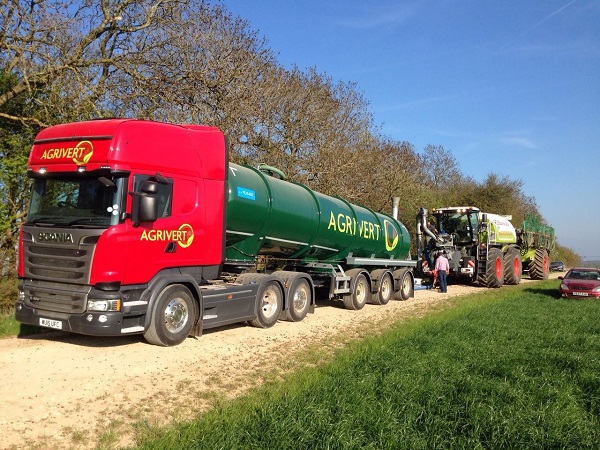 D-TEC have been supplying specialist tank trailers within the Dutch market since 1987, specifically designed for liquid waste and manure transport operations. Due to the limited space on Dutch farmyards, steered vehicles have been produced from the outset. There has always been a particular focus on a low tare-weight, low maintenance costs, and a high trade-in value, coupled with a high degree of technical continuity.  Gerrit Van Vlastuin, the owner of D-TEC, comments: "Thanks to the continuing phased optimisation, today we can say that we really have reached the top in production quality and customer service."
Demo Day on 24th April
Successful demonstration day on 24 April Together with Agrivert, D-TEC organised a demonstration day on 24 April last in Cassington, England. Agrivert's three tank trailers were used for a live demonstration of among other things efficient loading and unloading with a D-TEC tank trailer.