June, 24th 2015
Samskip Van Dieren Multimodal B.V. took delivery of the first D-TEC chassis for 45ft containers. 'We selected D-TEC due to the low dead weight of the chassis and the good price-quality ratio', according to Tim van der Roest, Fleet Manager at Samskip Van Dieren. Samskip Van Dieren is a subsidiary of the Rotterdam-based Samskip Multimodal B.V. Samskip Multimodal is specialised in multimodal transport within Europe. This involves using its own ships, containers, wagons, trucks, trailers and container chassis. It also has its own rail terminal in Duisburg. 
Fewer incidents of damage
When it placed the order, Samskip Van Dieren challenged D-TEC to limit the risk of damage. With the current 45ft chassis there are regular incidents of damage to the truck and/or loading dock. 'One of the most important causes of damage is that the locking pins on the front of the trailers are not put back in the correct position on many occasions. D-TEC has responded to this by constructing the lock in such a way that it cannot remain open, explains D-TEC director Gerrit van Vlastuin. 

1 litre of diesel saved per 100 kilometres                      
D-TEC also focuses on low operating costs when creating new designs. 'Every 1000 kilograms lighter a chassis is, produces a saving of 1 litre of diesel per 100 kilometres', according to Van Vlastuin, who bases this on figures from organisations including the NEA. 'We produce this light weight with smart design and by using high quality, high strength steel. This new 45ft chassis weighs less than 3800 kg, which makes it the lightest 45ft container chassis on the market.' 

Simplicity is paramount
In addition, Samskip Van Dieren asked D-TEC for a light and robust 45ft container chassis. This request was very appropriate for D-TEC's points of departure in relation to the development of the S-line container chassis. This chassis is well known for its light weight, robust design and simple operation. Simplicity is paramount at D-TEC, in both construction and in operation. This is why the container chassis contain few service parts, the consequence of which is that the maintenance costs are low.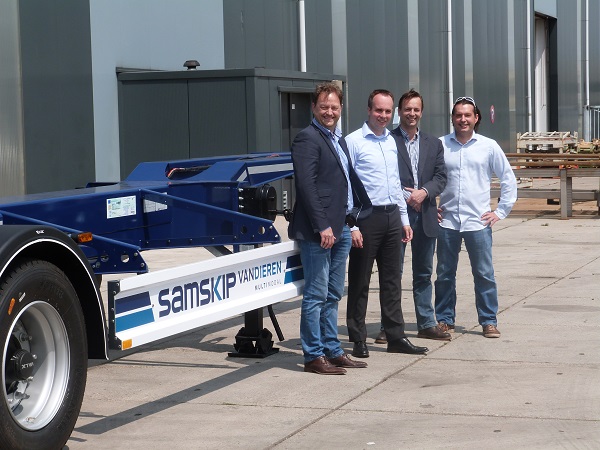 Left to Right: Twan Heetkamp, Tim van der Roest, Gerrit van Vlastuin en Danny de Koning